Top 10 Indian Street Foods You Must Taste
Sun, 08/23/2020 - 11:10
by
Street food in India varies from region to region with each one having its own specialty ranging over a variety of taste, color and spices. The roadside eateries are mostly makeshift stalls where food is made in front of us and is enjoyed by all group of people, business men, students, travelers, and for those who are out looking for a change from the traditional home food.
Gulping down a plate of piping hot idly sambar and cooling it with jigarthanda at midnight, in the temple town of Madurai or finishing off a plate of the ghee soaked parathas with a tall glass of lassi at a highway dabba in Punjab early in the morning is what we Indians simply love our street food at any time of the day.
So here are the top 10 Indian street foods from major Indian cities loved by people of all ages.
Bengal Pani Puri
This mouth watering best street food from India is available across every street. It is known as Golgappa in West Bengal, a small, round crispy semolina shell which is stuffed with spiced potato and served after digging into tangy water and best eaten whole.
Kolkata's Bhelpuri
Bhelpuri otherwise called Bhel is the king of Chaat and is made of puffed rice, onion, potato and tangy tamarind sauce. Bhelpuri also called as Jhaal Muri in Kolkata is originated in Maharashtra and the children love it on their plate at tea time.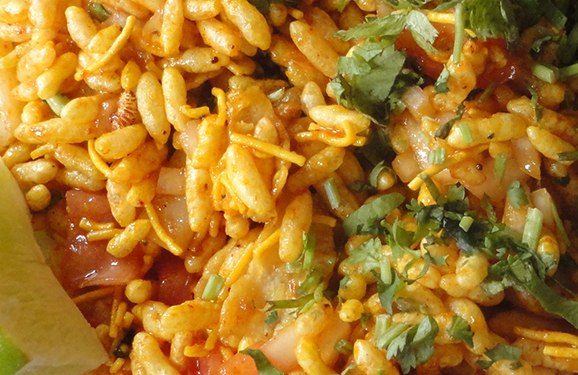 Maharastra's Pav Bhaji
It is one of the most common snack to have between lunch and dinner. A popular party favorite food and a quick meal is available at every other food stall. Pav Bhaji is served with butter fried pav alongside a bhaji or vegetable dish.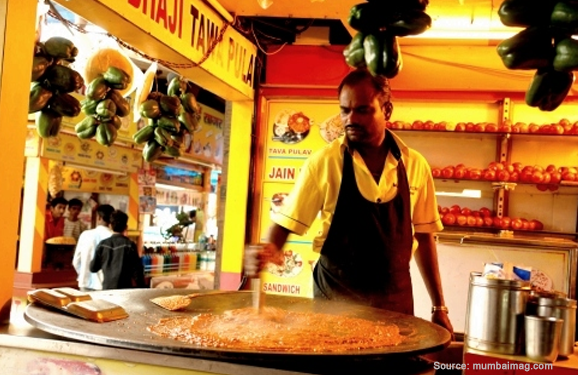 Delhi ki Chole bhature
India's capital city, Delhi is famous for its street food as well as Chole bhature which is best eaten hot with a slice of lime and pickled onions. Delhi is also famous for its rajma rice and tasty snacks.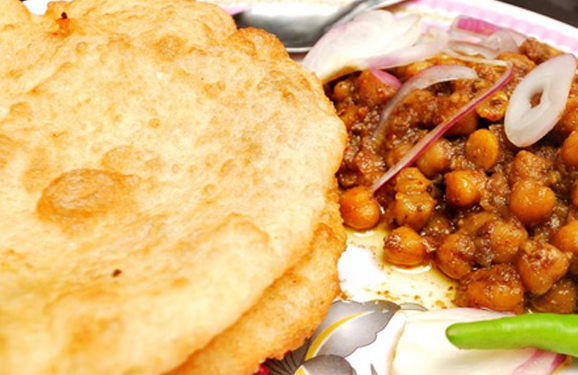 Mumbai's Vada pav
The Indian version of the ham burger is a famous one from our own Maharashtra contains a fried potato dumpling called vada served in a bun or 'pav' with a red or green (mint) chutney and fried green chillies. Few other street foods common in Mumbai are batata wada and kande pohe.
Chennai's Kerala Parotta
Parotta is one of the common street food. Preparing the parotta itself is a beauty to watch as the dough is rounded and flung in air before getting roasted. Parotta is available with a spicy curry well past midnight at any roadside eatery. When in Chennai, one also cannot miss the idli sambar and the spicy thalapakattu biriyani which is available in almost all street food stalls.
Hyderabadi Biriyani & Kebabs
A Mughalai inspired street food made with minced meat of lamb or chicken, mixed with spices is deep fried or baked on the traditional tandoor. Kebab is one of the most favorite street food to taste especially in Delhi, Hyderabad and Lucknow. Hyderabadi Biryani from Saarvi & Paradise gives mouth-watering tastes. The best Indian street non-veg foods are the Bun-Kebabs, Seekh Kebab,Tandoori Kebab and Hara Kebab.
Chennai's Chinese fried rice
Indian streets are one of the best places to try Chinese food like fried rice and noodles that are very easy to cook and the tastes good. With options like chicken, egg and vegetables to choose from the fried rice with spicy soy and chilli sauce is a huge hit among the night birds on the Indian street.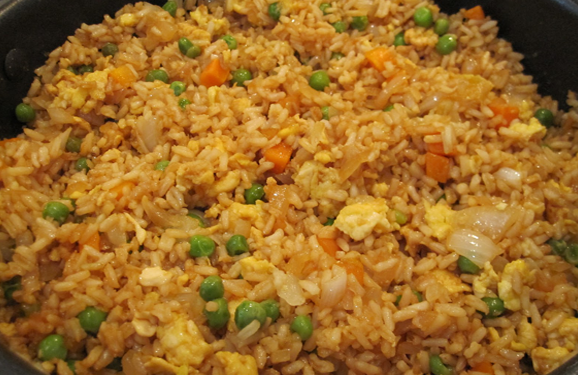 Momos
These are available in many Chinese street food stalls especially in the evenings. The dumplings are made from simple flour-and-water dough wrapped around a vegetable or meat filling and steamed is often served with chilli sauce for that extra punch.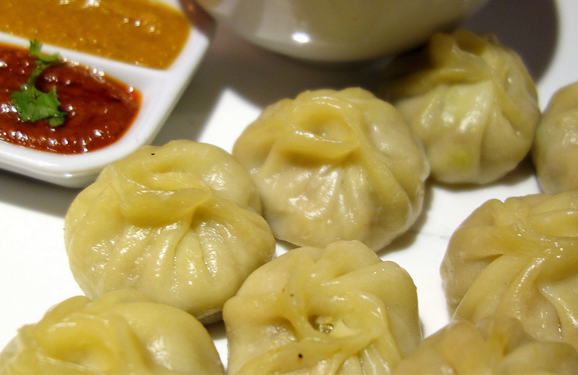 Bengali Rasgula
Indian street food caters to people with a sweet tooth too. This Bengali sweet is made of Indian cottage cheese, flour, and is cooked in a sugary syrup flavored with a little rose water and served chilled. The cool mishti and the hot golden jalebis are some others and nothing can beat the taste of the great Indian street food.