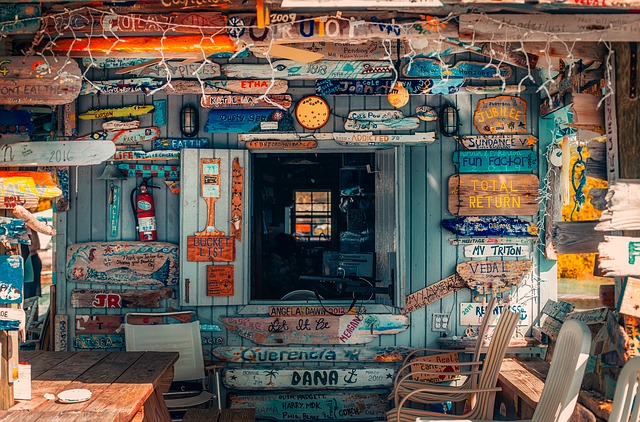 The Best Kept Secret Bars of Liverpool
Sun, 08/30/2020 - 11:05
by
So, you're in the city of Liverpool for a night out on the town. But you didn't come all this way for the same old Yates and Weatherspoon's you can go to near home. Find the best kept secret bars of Liverpool, United Kingdom here.
You came to experience the best of what Liverpool has on offer.
Finding a top-notch bar in Liverpool can be tricky if you don't know the lay of the land. Especially as there are so many to choose from.
A bit like finding a gold needle in a silver haystack, no matter where you end up in Liverpool you'll have fun but we're aiming for epic here. We've put together a guide to the best bars in Liverpool that are a little off the beaten track.
Ex-Directory
Where: we're not telling, it'll ruin the fun!

Hint: head to the website with your earphones in.
This is a bar steeped in mysterious glamour, almost impossible to find unless you know where to look. Even the website is cryptic with no address no contact a list of phone number and all of them wrong.
On order to gain access you need to locate the classic red telephone box, which is the easy part.
Now for the secret, you need a unique telephone number to tap into the keypad and voila you're in.
How to get the number is something you'll need to find out for yourself.
Enter an exclusive world of fabulously indulgent cocktails served in giant conch shells and mini claw foot bath tubs.
Perfect for your Instagram and a great way to feel like a super sleuth detective trying to find the gaff.
Motel
Where: 5-7, Fleet St, Liverpool, L1 4AR
Listed as a "dive bar" in their online opening description, Motel is a place stripped back to the essentials.
Cue great music quirky off beat décor and superb drinks.
Perfecting the art of simplicity, the interior of the venue is exposed crumbling brick walls with peeling paint. Driftwood style signage and warehouse style lighting.
Candles in jam jars and monochrome artwork for menus and wall hangings, gives Motel a slightly dingy charm.
The flash of neon lighting here and there adds to the Americana hill billy effect. Coupled with the choice of music for the evening from punk American and psycho billy to grunge and garage. A vast choice of ales along with an eclectic mix of delicious cocktails are paired with giant bags of pizza and jalapeno flavoured crisps. Or if you're a little hungrier why not choose from a small but delicious menu of burgers and fried chicken.
Simple, tasty, unique and a little bit naughty perfectly encapsulating Liverpool's best night life.
Arthouse
Where: 61-69 Seel St, Liverpool L1 4AZ
Ever wondered what it would be like to sit on King Kong's hand whilst enjoying a delicious movie themed cocktail?
What do you mean no?
Well hopefully now it's a new dream of yours and you can see it fulfilled at Arthouse.
This stunning movie themed bar has a décor heralding the stars of the silver screen.  The likes of Marilyn Monroe and Dean Martin stare down at you from the ceiling and Nosfaratu and the Thing greet you on at the door.
King Kong as promised takes prime position next to the bar, perfect for hammy selfies.
For the artwork, the owners have compiled clips of the movie greats and projected them onto the white washed brick walls. Truly innovative and something to keep your eyes occupied whilst your taking a break from dancing.
If you are not dancing or watching movies, there's a third option. Ping Pong.
Yes, the indoor sport that brings out a competitive streak in the quietest of people. Get ready to challenge the entire bar in a tournament to last all night.
Food and drinks on offer further complement the movie theme.  Try a Charlie Chapgin or a Marlon Brandy, and for those movie style munchies choose from gourmet hot dogs, delicious nacho's or a Some Like It Hot Pizza.
For a night at the movies with a twist Arthouse is best for a dose of classic movie style glamour.
Santa Chupitos
Where: 41 Slater St, Liverpool L1 4BX
Up in the trendy ropewalks district of Liverpool in amongst some of those silver haystack bars is a golden needle in the form of Santa Chupitos.
Walk through the tiny entrance of what looks to be an old man's pub, to be greeted by a bar that looks too small to provide excellence, but don't be fooled.
The team at Santa Chupitos are constantly striving to "impress your tasted buds". Offering three alternative menus one of which varies with the seasons and the other that changes as the team create new and exciting taste sensations.
This seemingly unassuming venue is part of the family that own and run Salt Dog Slims and Slims Pork Chop Express amongst others.  With their booming success' maybe soon they'll rule the world. The formula they use in each of their venues is entirely unique, delivering superb service as well as one of a kind experiences. All the members of the Graffiti Spirits Group excel in delivering what we, the people, want/need.
To get your taste of it wrap your lips around a $5 Shake at Santa Chupitos on you next night out on the town.
Brass Monkey
Where: School Lane, L1 3DA
A new addition to the hidden bars of Liverpool, Brass Monkey has made its mark as one of our favourites.
The décor is beyond quirky a sort of a mix between your home kitchen, a children's park and Japanese umbrella shop in Kyoto. Small enough to be intimate yet not Closter phobic.
The bar covers the width of the rear of the venue's entrance with small tables set out in a series of little nooks and crannies.
For a little bit of fun there's even a table with seats suspended from the ceiling which can and are used as swings.
A drinks menu that consists of bespoke cocktails and craft beers offers something for everybody taste buds.
For food, its tapas style dishes to share, platters of cured meats and the best selection of cheeses. Or if you fancy something a little more substantial try any of the delicious main courses which will arrive at your table plated and dressed like little works of art.
As this list only covered our top five you can bet your bottom dollar there is a host of other amazing venues that remain undiscovered.
Perhaps it will be you that discovers another amazing hidden gem of Liverpool nightlife. Enjoy your trip to Liverpool, Book your Cheap Liverpool hotels with eFlyto today & Save!