Thinking Best Honeymoon Destination? Nowhere Better Than Kerala Even During Monsoon!
Sun, 08/30/2020 - 11:19
by
Kerala, God's Own Country, is considered heaven for honeymooners. People come here not only from different parts of India but from abroad as well, making it a prime destination for the newly wedded couples. Rustic-looking houseboats cruise on the backwaters of Kerala and let you revel in the company of your beloved and Mother Nature. Sandy beaches welcome you to offer your reverence to the sun. And a glance on plantations of tea and flavourful is like becoming a part of the soul of this state.
Where in Kerala
Romantic getaways in Kerala are never in shortage. They can often become overwhelming if you have fewer days for vacation but the feeling is not different even for couple on longer holidays because of the so many places you can be in and so many things you could do.

Most of the much-appreciated honeymoon destinations in Kerala are spread over central, south and north. Choose from the following to relax after the wedding rush:
Poover
Kovalam
Munnar
Vythiri
Varkala
Thekkady
Kumarakom
Kuttanad
Alleppey
You can expect to find sandy beaches, backwaters and houseboats, tea plantations and forests in addition to manmade buildings of artistic and historic relevance like several temples, palaces and forts, cemeteries and citadels. Add Kerala-special food served in their style, Ayurveda resort with unique services and various colourful festivals to the experience to the list and you will feel like being in different world.
Want more reasons?
Temples- Visit Sree Vadakkumnathan Temple (Thrissur), Chottanikkara Bhagavathy Temple (Cochin), The Guruvayoor Sree Krishna Temple (Thrissur), Sree Padnamabha Temple (Trivandrum) for some soul searching and plunging into divine.
Nature- Green becomes greener painting every hill and valleys places like Munnar, Wayanad and Idukki. Mild adventure seekers are welcomed.
Somatheeram Ayurveda Resort- World's first, the place is frequented for its preservation of Culture, Tradition, History, Yoga, Ayurveda, Beach and Nature.
Unique Gifts' Shopping- People interested in handicrafts, bamboo products, home-made pickles and snacks, fresh honey, tea, chocolates and spices can take these to home as gifts.
Kerala in Monsoon- More romance in the spice capital
The season of monsoons in Kerala is timed from June to September, caused by the Southwest Monsoon – "Edavappathi". Romance becomes the spice that flavours marriage during honeymoon here, thanks to the charm added by the Nature at its best. Moreover, lesser crowd means better vacation during Monsoon. Better means lighter on pockets as well!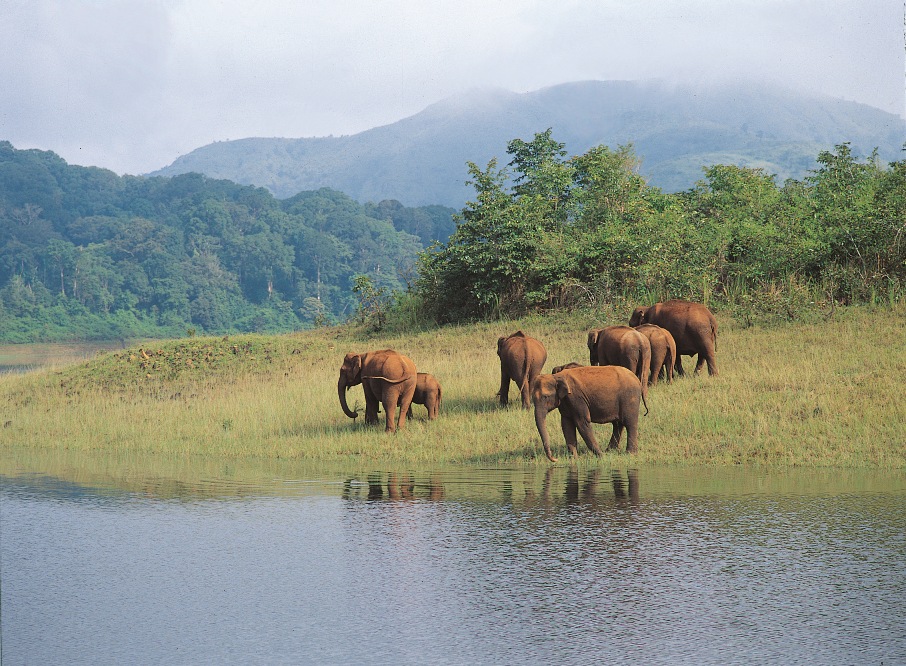 The bright side
Waterfalls- Well-known ones become fuller and heavier, worth sighting. Newer smaller ones get created, with heavy rainfall. A laidback holiday is what you can enjoy during this time with lesser fuss over sightseeing.
Ayurveda deems Monsoon as the best season to plunge into body and soul rejuvenation therapies. Dust-free, cool atmosphere maximizes the opening of the body pores, allowing herbal oils and therapy to work wonders on the body.
Off season deals and discounts- Kerala Tourism offers deep discounts to make the place attractive to the potential honeymooners and other tourists. You get better accommodation in same price compared to peak tourist seasons.
The flip side
Don't sulk if frequent rains and rough sea spoils your plan to spend time on beach. Still you can expect some off days for rainfall.
Heavy rains can make some waterfalls dangerous and thus closed. So always have some alternative on mind.
Things to consider
Vegetarians can have difficulty picking up food from menu due to preference of non-veg dishes.
Kerala tour packages can be dearer than packages for other quaint tourist places. So be mentally prepared to spend more for everything.
As monsoons might get delayed, planning honeymoon in late June or July ensures that you can enjoy your rainy vacations with your beloved.