10 Most Beautiful Scenic Drives in US
Sat, 08/29/2020 - 14:14
by
Scenic Drives, Road Trip Planner USA
With an abundance of scenic beauty, U.S. offers one of the world's best places for planning a long drive, to rejuvenate with your friends and family. Whether you want a drive through dark and beautiful forest, or along long shining beaches, you are surely going to find your favorite spot right away. Adventure lovers have their own routes to explore the beauty of nature and indulge in the breathtaking sceneries. With so much to travel around, there is no reason to miss out on a beautiful drive. The following 10 most beautiful scenic drives in U.S. is definitely going to woo you in many ways.
#10 Hawaii: Hilo-Hamakua Heritage Coastline Drive, 45 miles
The route allows you to drive through the magnificent coast of Hamakua. The roads are narrow and twisting and are intended for slow drive. While on the drive, you may explore dense flora combined with turquoise water reflecting the aura of the sky. Along the coastal route, there are many places to stop for shoreline adventure, magnificent ocean view and waterfalls. The drive is 45 miles long and starts from Waipio to Hilo along the Hamakua Coast.
#9 Pennsylvania and Delaware: Brandywine Valley, 12 miles
The byway is located between South Pennsylvania and North Delaware and is one of the shortest yet splendid drives in U.S. You will be able to feel the American aristocracy coupled with nature's beauty in as short as 12 miles of drive. Route 100 and 52 of Brandywine Valley displays the summer estates of the du Ponts who were one of the wealthiest families in U.S. The astonishing botanical collection is made by the succeeding generation of E.I. du Pont who came to America from France in 1800 and established their estate in the land.
#8 Colorado: San Juan Skyway, 233 miles, San Juan National Forest, Grand Mesa, Uncompahgre and Gunnison National Forest
Also known as "road to the sky", San Juan Skyway is a 233 miles drive in Colorado. The main attraction is 14,000 foot San Juan Mountains which provides scenic beauty in steep cliffs and alpine forests. The place is a must visit at any time of the year. Waterfalls are commonly seen during springs, which invade the forest from melting snow. Wildflowers cover the entire land during summers endorsing picturesque views. The fall season makes the aura golden with falling leaves of the trees and the winters are white because of snow. Apart from this, adventure sports like hiking, skiing and mountain biking attract many people again and again to visit the place each year.
#7 Utah: All American Byway 12, US Hwy 89, 120 miles
The main attraction being Bryce Canyon National Park, it is a 120 miles drive and is also designated as "All American Road". The sculpted rocks in all the sides take you to a fantasy land and offer splendid views of castles, temples and stone formations. During the drive, you may see much varied beauty of Utah and Boulder Mountain which remains covered with aspen. The byway ends in Torrey from where you may also visit Capitol Reef National Park, just 5 miles from Torrey.
#6 California: Pacific Coast Highway, 123 miles
Beautiful cliffs and twisting roads make the Pacific Coast Highway the best place for nature lovers and photographers. The 123 miles long drive begins at Monterey and winds through the Big Sur which provides splendid views of extraordinary beautiful coastal cliffs and dense forests. On the way is the Hearst Castle which is must visit for anyone. The byway ends in Morro Bay where you can find many beach activities to indulge in.
#5 Montana: Going-to-the-Sun Road, 52 miles in Glacier National Park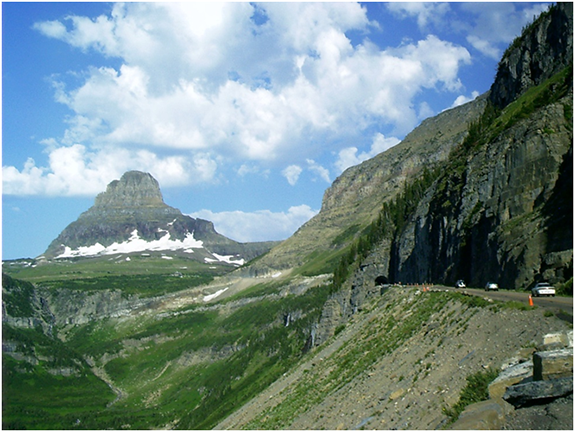 Going-to-the-Sun is one of the most popular places for long drives in U.S. It is the only road which passes through Glacier National Park situated in Montana. Logan Pass which lies on the route gets a snow cover of around 80 feet. In east of the Logan Pass, is located the deepest snowfield known as the Big Drift. The Spectacular views of the unusual sight often persuade the hearts of visitors and nature lovers.
#4 Texas: Devil's Backbone Farm Roads 12, 165, 2325, 32 and Hwy 281
Devils Backbone is a scenic ridge which runs from Blanco to Wimberley. The land remains covered with wildflowers during spring and early summer and shows a great display of natural beauty. You may easily spot a white tail deer. The scenic loop is 54 miles long and extends from Texas Hill Country to Blanco and is much popular among motorcyclists as well as car riders.
#3 Blue Ridge Parkway, 469 miles from Virginia to North Carolina
Being an "All American Road", it is a National Parkway popular for its natural beauty and fabulous drive. The byway is 469 miles long and offers a stunning view of mountains and dense foliage. The 105 miles long Skyline Drive, which runs across the Shenandoah National Park is worth visiting during the fall as the leaves of the trees changes its color to provide a picturesque scene. Due to this fact the Skyline Drive is also designated as National Scenic Byway.
#2 Florida: Overseas Highway, 160 miles from Miami to Key West
Sunshine, blue water and long never ending bridge is what Overseas Highway is all about. The byway is 160 miles long starting from Miami, provides breathtaking scenic beauty and bring your closer to nature. The Seven Mile Bridge in Florida Keys provides you with a memorable driving experience over the azure sea and blue sky. The original construction includes former railroads, many bridges and truss bridges and was completed by 1912. Many parts of the bridge were destroyed in Labor Day Hurricane which hit the country in 1935. The destroyed parts were later constructed and made open for visitors.
#1 Oregon: Columbia River Highway, 74 miles from Troutdale to the Dalles
The Columbia River Highways holds a historical place and is a planned scenic byway in U.S. Long curvy roads, noisy waterfalls, bridges and historical constructions, all combine to provide you a devastating experience of driving on the route. The magnificent overlooks of the Columbia River Gorge makes it the best scenic drive in U.S. Dense forest and a variety of wildlife makes this place outstanding for a day out.
Contributor: Alecia Gilbert – ClassicadventuresRV.com