Things To Keep In Mind When Cruising With Kids
Sat, 08/29/2020 - 12:13
by
Cruising with Kids
Water travelling is a different experience all together and probably has much fun and adventure infused into it. And the journey becomes all the more pleasant when you are cruising with your kids on a ship. However, there are certain measures and tips which you must keep in mind when travelling with your children on a ship. Cruising is not similar to a road travel. Air travels are usually short spanned and road travels, albeit long give you the scope to break the journey for some time and arrange for what is missing. There are also many aspects related to safety, health and the mannerisms while travelling on a ship. So here is what you could keep in mind while cruising with your little ones on a ship.
The Prime Check : Safety
Now, you have got a great ship deck to travel on, so far so great. It is then time for you to check all the safety procedures which are given to you at the beginning of the ship journey. You must be prompt at remembering the muster stations which are helpful at the time of real emergencies and drills. Also, if any paper of instructions is handed over to your family, take responsibility of reading that thoroughly before the journey starts and always double check any point which is not clear or not easily understandable. Explain the rules and instructions to your kids in simple language and make sure they follow that without fail. You would certainly not wish to invite any sort of trouble during your cruise journey.
Check Out The Activities Being Offered By The Cruise
It would be great fun if you and your kids get a hang of all the activities especially the ones which are for kids and youngsters at the ship during the journey. Pick and choose the activities for your kids, let them know what options thy have and encourage your children to participate in all of that, only if they are safe and does not involve danger as there is a difference between doing something adventurous and doing something perilous. The cruise usually continues for a day or two, so make sure your kids have as much fun as they could.
Family Suits Are Ideal When Cruising With Kids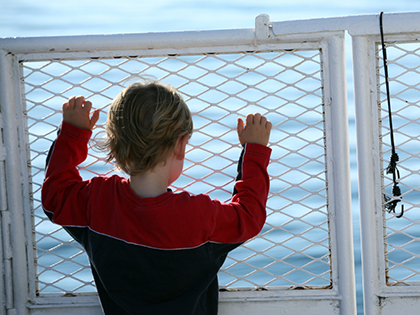 While booking a suite, go for the Family suites which are offered by the Royal Caribbean ships as they give you the luxurious opportunity of expedited boarding (and disembarking); special menus; reserved pool-deck and theater seating and several other comforts which would make your journey with your young ones truly enjoyable and fun, not to mention memorable. After all, they waited for a long time to go on this trip, so make sure every moment is worth living for them.
Prepare Before Hand
Do not wait for the last moment to get everything you need for the journey. Prepare before hand, buy the clothes which you would want your kids to wear, know the kind of habits your children have and especially make sure that none of your kids is sick at the time of the journey as then you could get into real hot waters. Keep the material ready which you intend to take on your journey to avoid panicking at the last hour.
Make The Kids Dress Comfortably
Children are full of energy and are always on the go, so naturally they need to be dressed in comfortable clothes in which they could carry out all of their activities easily and their outfits should not interfere in their fun times. Go for trendy shorts, nice and cool little skirts or a jumpsuit for your little fairy girl and comfortable pajamas or shorts with nice and easy ganjis for your boys. They would love it and find the journey even more conducive when their clothing would be supportive of their comfort.
Water Sickness Could Cause Discomfort To Your Kids
While we all have heard and at times experienced air sickness as well as motion sickness, at times the people do experience certain feeling of discomfort while they are travelling on water. Almost every fifth person has water sickness which causes a feeling of nausea and intense pain on the temples of the head, and this certainly does not make travelling fun for either the person or the people travelling with him. Therefore get this checked for your children and for yourself so that there is no sticky situation at the time of cruising. Medicinal help and other treatments would become difficult on a ship.
Make Arrangements For Additional Entertainment for Kids
Sea water is intriguing and a water journey could be an experience in itself, especially for the first time travelers. However, after a certain point of time, it could get a little mundane, if not for you then may be for your kids as their concentration span is short and their moods unpredictable especially at the time of travelling. Therefore it would be smart to carry nice music pieces, entertaining DVDs, games which your kids could play at any time and also some interesting and funny books to keep the kids engrossed. Else, be prepared to face those whiny voices, frowned faces and cranky mannerisms.
Let The Kids Be Themselves
While it is important that you ensure that the kids are safe, do not put too much restriction on them. Avoid telling them all the time what they should or should not be doing on the trip and quit scaring them all the time of what dangers are involved while travelling on water. This would either irritate them no end or would make them turn extremely terrified by cruising.
Educate Your Children Simultaneously Throughout The Journey
Cruising with the kids is a wonderful time to impart practical knowledge to them about that which they study in schools. If they are big enough to read about water density, how the ship floats and aquatic animals, this would be a golden opportunity to discuss those topics with them along with live examples. Believe it, you kids would love this kind of a class in the middle of deep and mysterious water. Look for any fish sneaking up at the ship and make sure your child catches all these views.
Contributor: Alecia Gilbert – Online Manager – ClassicAdventuresRV.com