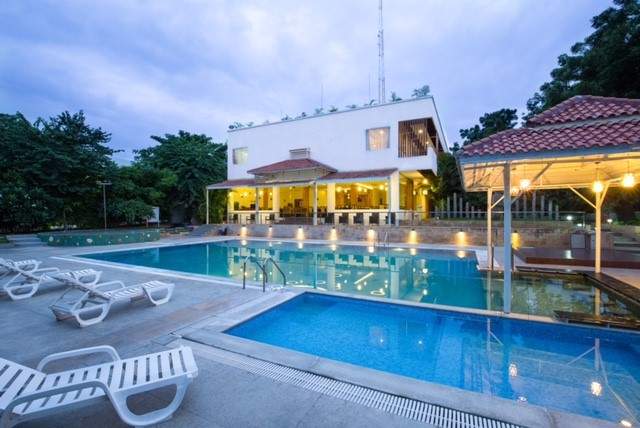 Mrugavani Resort & National Park Hyderabad India
Thu, 09/17/2020 - 14:19
by
Mrugavani Resort – The Eco-Friendly Resort and National Park in Hyderabad
Mrugavani Resort located in Hyderabad is an eco-tourism project, with all modern amenities blended closely with nature and greenery around. The proximity to the resort is very close by the city. Just opposite of the resort is the Mrugavani National Park, where the safari in a bus is arranged by the resort itself. This gives a break from the routine city life. You will find Deer's, Peacocks, Snakes, birds, chameleon and other reptiles.
A Day-Outing in Mrugavani Resort Hyderabad
The Day-outing would be one of the good choices for larger groups in the Mrugavani resorts. The pool-side cottage would be one of best options to choose. There are ample activities you can perform to team building as well as spending some leisure time. You have cricket ground, football, and volley ball ground, for which kits are being provided by resort. Apart from that there are indoor activities like Foosball, Snookers, table-tennis, chess, carom and more. The prices are fair that includes the breakfast, buffet lunch (veg/non-veg) and hi-tea.
An interest fact
Speaking with the Director of the resort, a specific percentage of their profits is used for corporate social responsibility. They do provide less than 25% of the cost for under privileged children including food to take around and creating awareness for tomorrow's leaders about the importance of eco system, as they have a tie-up with the Mrugavani National Park.
After visiting resort, a small wonder, what if large corporates, hotels if they can take up the initiative of adopting a lake, national parks, creating organic farms etc. that would help in a great way to society to retain the natural resources, meanwhile becomes an attraction by itself. For instance, if a lake is adopted, while maintaining the water bodies, boating would help them attract tourists. Hotels can try for food gardening, organic gardening and can use solar power, which itself is contributing to the environment.
"I have visited so many resorts, this is one of an unique kind.  You do a get a safari to a National Park, there are 2 swimming pools, one in main area and the other behind the cottages which is like a private one, delicious food, free outdoor games, indoor games and much more. Going forward, this would be one of the resorts, I would prefer for a day-outing with family or larger groups or if there is going to a company event." – Yuvaraj