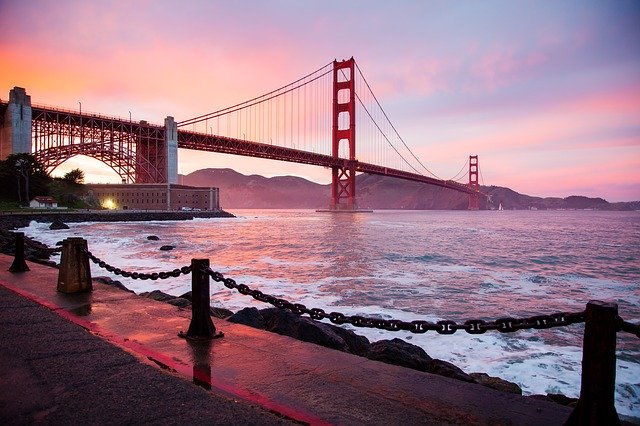 Cruise And Sightseeing Best Way To Explore San Francisco
Sun, 08/30/2020 - 11:57
by
Herb Caen said, "One day if I go to heaven…I'll look around and say, "It ain't bad, but it ain't San Francisco" and these words are so true that whenever I visit this beautiful city I leave a bit of my heart there. It is full of surprises and never fails to disappoint you. This city by the bay has some spectacular sights and landmarks in its pocket making sightseeing plus bay cruise a perfect combo to explore everything in San Francisco from the Alcatraz to the Golden Gate Bridge. Let me help you out with some tips to explore San Francisco in a whole new way.
Let's Get started
Before starting your journey, make a detailed list of all the sights of San Francisco. If you miss a single sight, you will miss a big part of it. The city offers a rich history, beautiful architecture and breathtaking landscapes to explore it. From the Union Square to Fisherman's Wharf, China Town, North Beach, Alcatraz Island, Golden Gate Bridge, Golden Gate Park, Bay Bridge, Civic Centre, Ferry Building, the city is full of beautiful sights to explore. For an art buff, the city has many popular libraries and galleries having wonderful collections.
San Francisco during New Year Celebrations
Best Way To Traverse…
San Francisco has a lot of sightseeing tour options. You can use public transport or hire a taxi, whichever suits you and your pocket the best. Shuttles and cable car tours are also an option. A cable car tour is no less than a roller coaster ride and no doubt very enjoyable. But why go for a cruise tour? Cruise tours are one of the best adventures San Francisco tourism offers its visitors. Imagine the awe-inspiring view of the San Francisco's skyline, hills, and the Marina all together. Cruising on the bay is an incomparable experience and the best way to catch a glimpse of this dynamic city.
Navigating Along The Skyline
A holiday in San Francisco is unfinished until you have experienced the city from the waters on a cruise. Cruise tours are the best of the surprises, this city offers. Sailing the city as the sun slips off the horizon makes your journey much more beautiful and memorable. San Francisco Bay Cruise gives you the opportunity to navigate along the San Francisco's skyline. Leaving from the Fisherman's Wharf cruising along the Aquatic Park, Fort Manson, Marina District, Pacific Heights, Crissy Fields, the Presidio and many more sights, will leave you speechless..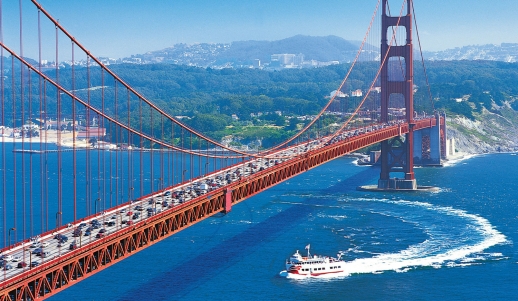 Come On Board And Enjoy…
Cruising on the bay can be a whole new experience as you get to relish the city's landscapes from a unique angle. Although there are a plenty of sights to visit in San Francisco, there is nothing comparable to those around the San Francisco bay. So, you simply can't afford to miss this out. From the Golden Gate Bridge to Alcatraz, Fort Mason to Marina District, Fisherman's Wharf to Aquatic Park, you have the privilege to revel in these sights up close in a boat tour of the bay.
A Laundry List Of Cruises To Choose From
There are a dozen of cruises to choose from, if you are planning to explore the city from the waters. You get to choose from an elementary cruise which takes you around the Golden Gate Bridge to the notorious Alcatraz Island or a bridge to bridge cruise from the Golden Gate Bridge at the rim of the Pacific Ocean to the Bay Bridge in the heart of San Francisco. Apart from this, for newlywed love birds there are romantic tours like a sunset cruise or a twilight cruise. For added adventure, there are rocket boat cruise and special wine tasting cruises too.
Added Bonus
A journey becomes more interesting if it takes you back in time. It is an ineluctable experience. All the cruise tours of San Francisco are audio recorded or personalized by an individual who will take you back in time so that you can experience the history and stories behind each destination you visit. Audio tours are usually available in a number of languages which make it all the more exciting for everyone. You can sit back and relax while discovering the rich history and relish the unique landmarks of the city.
A cruise tour of San Francisco aggrandizes your experience all the more. The spectacular view of breathtaking waterfronts and sunsets from the comfort of the ship will enhance your experience and take it to a whole new level. This will be one you won't forget in your lifetime. Book your hotels in San Francisco at cheap rates from us.
Contributor: Amber Clark