It's time to visit Dubai – the World's Shopping Paradise
Thu, 09/17/2020 - 17:21
by
Passing your time in Dubai isn't much hard. You have ample number of things to do in Dubai that gets you the real fun ranging from sight-seeing, shopping and partying in Dubai. Did you know that Dubai is one of the hottest destinations not for its deserts but for its Night Life?. Yes! Dubai is awake 24/7, Day-time for going-around the city attractions, shopping etc and the night to spend in awesome pubs in Dubai in-city locations such as Bur Dubai, Jumeirah and Deira. All you have to do is have a good savings of money, which you can spend in Dubai to get what you need.
Feel like visiting Dubai now! Book your hotels in Dubai at the lowest cost to save more, so you can have a good amount of money for enjoying in there. Yeah, you got to book your flights to Dubai, no worries there are hundreds of airlines that flying to Dubai. It's a suggestion; you got to try the Emirates Airlines, One of the International Airlines operated by the United Arab Emirates. We bet you will have an awesome flying experience!
Top 6 Dubai Shopping Malls
Here is the day-time time passing shopping malls you can visit. The walk in the shopping malls in Dubai, will make your day feel better, but ensure you have the right plans, else you may turn out with empty pockets, as the shopping malls in Dubai attracts your mind to make your buy the things which may be important and mostly which is not important. Be cautious! Else walk with full pockets.
WAFI Mall, Dubai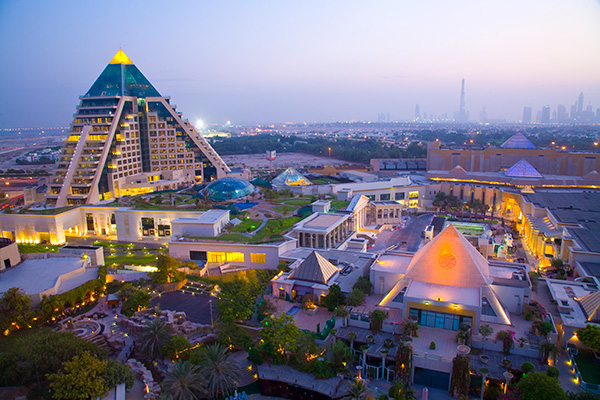 One of the elegant and expensive pyramid type of a mall with an Egyptian theme of designs in the wall. The mall is well known for its modern arts as well the legacies of pharaoshs. There are lot of retail outlets to shop around and restaurants to feed your hunger. Don't forget to visit the spa in there.
Mall of the Emirates (Also Known as "Emirates Mall")
One of the Ultimate shopping malls in Dubai preferred by expat residents of Dubai, as well the tourists visiting Dubai. The mall has got over 450 retail stores, which provide year around discounts and offers. There is more attractions within the malls which you shouldn't miss such as the ski Dubai. There is no one missed the shopping in this mall, who have made a trip to Dubai.
Dubai Mall
The Dubai Mall is one of the premier shopping malls which gives feel of a modern shopping era. Did you know, there is one of the biggest aquariums and an Ice Skating ground within the mall. The Dubai Mall is located very close to the Burj Khalifa, one of tallest building in the world. Just wonder, you have a full view of the building just coming out of the mall. Also an awesome water fountain show is held every evening attracting hundreds of visitors. This Dubai mall has over 1000 retail stores to shop around. All shopping freaks love this mall.
Burjuman Centre
Burjuman centre is a shopping mall where you can find high-end fashion store in Dubai. You want to talk business, then visit the mall and you find nice coffee shops with ample space to have a pleasant time. Good Restaurants are available within the mall as well as very close outside the mall.
Deira City Centre
City Centre mall is one of the preferred malls for shopping fashion, electronics, jewellery and many more. The mall has got over 50 restaurants where you can enjoy your dine-in as well.
IBN Battuta Mall
IBN Battuta Mall is one of the preferred malls by the local Emiratis and Arab Population in Dubai. Locals and Tourists love this mall, though a bit expensive, the mall is specialized in ethnic clothing, and is remembered as an Arabian icon. The china market is held here seasonally.
Shopping Festival in Dubai
The DSF – Dubai Shopping Festival is held between November to February every year. If you are a shopping freak, visit Dubai during the shopping festival time to make the best buys in Dubai at the best prices. As this is a high peak season is Dubai, book your travel itinerary in Dubai at the earliest and save more.