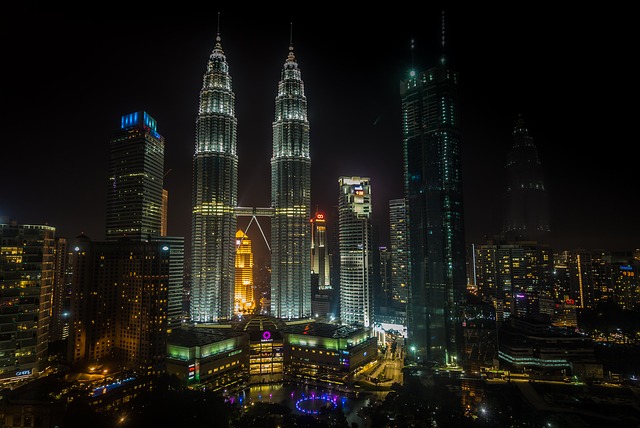 Beginner's Travel Guide to Kuala Lumpur Malaysia
Sun, 08/30/2020 - 13:15
by
Have you already got tired of African resorts and European architecture? Why not to visit Malaysia then? Set off to Kuala Lumpur! We have got the best hotels deals in Kuala Lumpur Malaysia.
Places to Visit in Kuala Lumpur Malaysia
Now we are going to tell you about TOP 5 places that should be visited by all of us in the capital of Malaysia. If you are new to Malaysia or touring Malaysia for the first time for a short period, then you shouldn't miss the below places to visit in Kuala Lumpur Malaysia.  Let's start our great virtual tour!
Petronas Twin Towers
If you are not afraid of height, this place should be number one in your list. This place is considered to be a "calling card" not only in Kuala Lumpur City but in the whole country of Malaysia as well.
The constructions were built by a famous oil company Petronas, they wanted to arrange there its own headquarters.
From 1994 to 2004, these skyscrapers were the tallest buildings in the world. Frankly speaking, it is rather difficult to imagine, but the towers' height is impressive, 451 meters. Each of them has 88 floors. Mind, that climbing the 41st floor, you will see an unusual bridge between the towers. It is called Skybridge.
If you want to get there, try to buy tickets in advance.- Why? – The matter is that their number is limited, so you will need to come in the morning and be ready to see the huge crowds of people, standing in the long queue. Inside Petronas Twin Towers, there is a special sightseeing elevator, it will give you a lift from 41st floor and up to 83rd one.
For an extra fee, you will be able to get right up to the 87th floor, where there is a terrific glazed observation deck.
The look, opening from there, is really amazing. – You will see not only the city itself, but also all the surroundings.
On the Petronas Twin Towers foot you can walk around a small park decorated by marvelous pavilions and amazing fountains. Also we recommend you booking cheap hotels in kuala lumpur malaysia near petronas tower and enjoy the attractions round the clock.
The Main Square of Merdeka
In colonial times, this undeveloped area, located in the heart of Kuala Lumpur had exactly the opposite meaning.
Which one? – It symbolized the British power. In 1957 when Malaysia gained its independence the square got a tall flagpole, a symbol of country freedom. By the way, even now it is considered to be the tallest one in the world.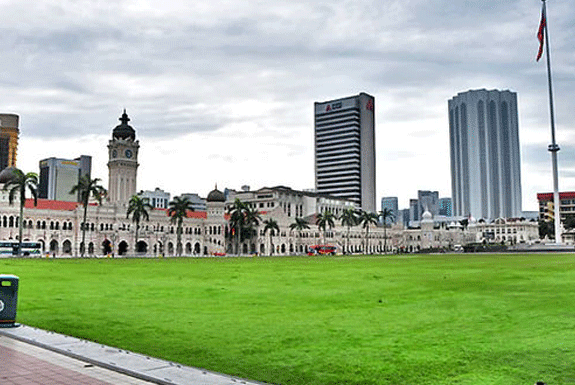 Despite all the changes, the architectural ensemble, located around the square, still recalls the colonial times.
For example, on the west side there is a Royal Selangor Club, but now its members are represented by wealthy Malaysian families graduated Oxford and Cambridge. Opposite the club you will notice the elegant Sultan Abdul Samad construction with 40-meter clock tower, which was built in the same colonial style and served as a headquarter of the High Court of Malaysia before.
Find hotels near stadium Merdeka kuala lumpur or hotels near dataran merdeka square.
Railway Station – Senandung Malam
Do you know that British people are known well for their obsession to build railways in all its colonies? Malaysia is not an exception.
In 1910 in the heart of Kuala Lumpur appeared an elegant building in the Moorish style, which immediately turned into a major transport hub in Malaysia.
In 1986, all long-distance trains were transferred to another location. At Senandung Malam it was decided to leave only the oldest station commuter trains. Nowadays the building has been carefully restored and renovated, and the former station hotel has been turned into chic "historic" The Heritage Station Hotel.
Chinatown is an important place in Kuala Lumpur
In Malaysia, where more than the third part of the population is represented by ethnic Chinese, Chinatown is an integral and rather interesting part of any city.
What are you going to see there? – Everything you like, beginning from stalls with hundreds of tea varieties and ending with traditional medicine pharmacy with thousands of boxes, containing different unknown substances.
You will definitely appreciate respectable Chinese Restaurants and street braziers, hissing, frying and smelling all day long.
By the way, that is a real paradise for shopping lovers. – The luxury boutiques with transparent gloss doors are surrounded by ordinary kiosks, selling, for example, sneakers Nike for $ 2 and Rolex watches for $5.
Moreover, in Chinatown you can see the main temples of the city's communities – the Buddhist and Hindu.
Ornate Buddhist temple called Chan See Shu Yuan is at the end of the Jalan Sultan Street, and ethnic Indians have built a temple of Sri-Mahamariamman on Jalan Tuh Str.
Butterfly Park Kuala Lumpur
That is the best place for those, who love greenery and colorful flowers, beautiful ponds and fountains.
However, be careful, it is very hot and humid, like in the bath, so do not forget to dress up correspondingly. Pay attention to that fact that as a rule your cameras will get wet as well as your clothing, and the sweet smell of pollen will be everywhere. Be ready for this!
Can you imagine 6000 butterflies flying in the same place? In addition to fluttering chameleons and white butterflies, you will be able to see dragonflies, buzzing by their propellers and small insects, crawling on the flower leaves.
Butterfly Park is located next to the bird park near the famous Lakers gardens. Of course, you can take pictures there, but do not forget to buy an additional ticket for filming.
Traveling to Kuala Lumpur, you are going to organize a real adventure. According to the experienced travelers' point of view, you will remember this holiday for a long period of life. Of course, if you don't have much time, the best solution for your vacation is to rent a car. It will save your time while moving around the city. Don't want to overpay for the car? Then use online car rental services, for example, at Kuala Lumpur Airport .
You will definitely see this city in your dreams again and again, and the sightseeing of Kuala Lumpur will bring you into a very peaceful and romantic mood. Don't wait book cheap hotels in kuala lumpur Malaysia within city or cheap hotels in kuala lumpur malaysia near airport. With this  the beginner's Travel Guide to Kuala Lumpur Malaysia ends. We will soon come up with more attractions and places to visit in Kuala Lumpur Malaysia and the neighbor country singapore as well.